Rent a studio
Cirque Hors Piste studios, the ideal space
Exclusively reserved for your circus arts practice, social circus, or similar activities, our studios provide pleasing spaces suitable for individual and group learning and creation.
Are you a professional circus artist or in the process of becoming one, and in need of space for your creative residencies or rehearsals?
Are you an arts teacher related to circus or social circus, and looking for a welcoming space to conduct classes or organize auditions for artists?
We offer two practical spaces for your activities: the dance studio and the multi-purpose studio.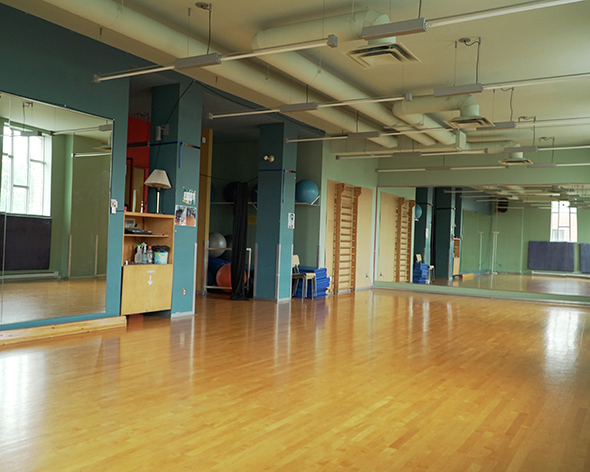 Dance studio
The dance studio is a spacious, rectangular room illuminated by beautiful natural light. It features large mirrors on two walls and a sound system.
It offers a number of possibilities tailored to your creative needs. Ideal for body or theatrical exploration, rehearsals, and private classes.
Details
Area: 874 ft2 (84 m2)
Length: 46 ft (14 m)
Width: 20 ft (6 m)
Height: 9 ft to the neon lights (2.7 m)
Wood floor
Large windows
Multi-purpose studio
The multi-purpose studio, a bright and intimate space, is perfect for your investigative or creative work, and private classes related to circus arts or similar activities.
It features two mobile mirrors on wheels and provides different types of equipment, including its own sound system.
Details
Area: 400 ft2 (36 m2)
Length: 20 ft (6 m)
Width: 20 ft (6 m)
Height: 9 ft to the neon lights (2.7 m)
Mondo floor (rubber floor suitable for any type of activity)
Daylight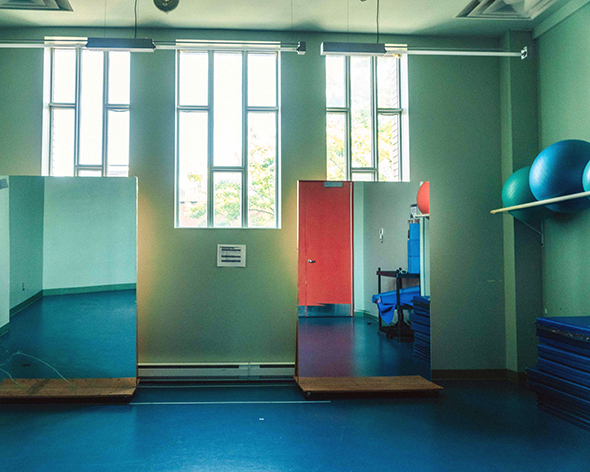 Included services
Sound equipment
Air conditioning
Wifi
Restrooms on the same floor
Dressing rooms and showers (locks not provided)
Accessible studios for people with reduced mobility
Access via stairs or an elevator to facilitate moving your bulky equipment
Common living space with fully equipped kitchen, available from Monday to Friday, from 12 pm to 5 pm
Additional services upon request ($)
Rental of different types of technical and circus equipment
Set-up and dismantling of the studio
Rental of a projector and a screen, tables, and chairs
Folding gymnastics mats available upon request
Professional technical staff