Movement
Cirkaskina, the Canadian social circus movement
Through its actions, Cirkaskina creates spaces for sharing knowledge and meaningful cultural interactions.
Cirkaskina was founded following the first national social circus gathering in Montreal, in January 2020, which brought together 150 youth from 17 Canadian communities. Cirkaskina, meaning "everyone together" in the Atikamekw Indigenous language, now includes 24 partner organizations from across Canada.
Cirque Hors Piste continues to make efforts to strengthen the Canadian social circus network by bringing together different communities from coast to coast to coast. To date, hundreds of young people have been able to establish meaningful connections and share their lived experiences through Cirkaskina.
Every year, over 45 young leaders act as ambassadors in their communities. In 2021, all of them participated in at least one youth committee contributing to the creation and development of national social circus projects. Over half of these young people continue to be involved in their local social circus organizations and serve as mentors for future participants.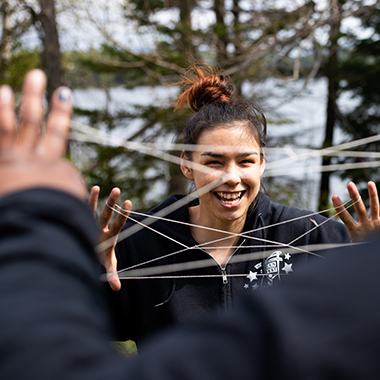 Cirkaskina's goals are rooted in reality.
Facilitate networking activities for youth and social circus practitioners, researchers and managers.
Promote and strengthen the recognition of circus arts as a tool for social transformation.
Foster the engagement and empowerment of marginalized youth in their communities.
engaged
young leaders
social circus
communities
Canadian
provinces