Approach
Social circus, an inclusive approach
Cirque Hors Piste stands out for its social circus approach that combines artistic expression and social intervention.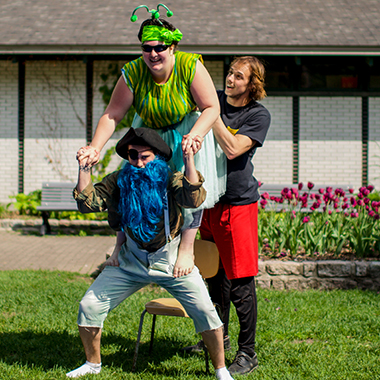 Individualized support allows young participants to live through personal experiences that have a positive impact on their self-esteem and identity. It allows them to create new relationships in a society that has often rejected them, based on their marginalization.
Because they encourage freedom and creativity while requiring tenacity, perseverance and discipline, circus arts enable people in precarious situations to thrive and express themselves.
Social circus encourages them to trust themselves and push their physical and social limits. Learning circus techniques is not an end in itself.
Young participants learn to build interpersonal connections, develop social skills, build trust and tap into their inner strength to cultivate tenacity, perseverance and technical discipline.
This journey becomes a catalyst for an individual's self-esteem and identity.
We focus on 6 key approaches:
experimentation
learning
documenting
innovation
partnerships
peer-based approach

Circus and intervention: a unique combination
A process supported by trust in our collaborative team.
Our team consists of passionate circus instructors who are eager to exercise their talents from a social perspective, as well as social workers who want to integrate circus arts into their approach.
The complementarity of their expertise allows us to create spaces that are incubators for success, encouraging young people to push their physical and social limits. What they learn in circus workshops translates into skills necessary to enhance each participant's daily life.
A space for social participation.
Offering one's creativity and talents to an audience in order to surprise them and move them becomes an active contribution to transforming the community environment and creating space for dialogue among different population groups. By using circus as a means of expression, young people have the opportunity to be seen differently by their community.
It is also a way of empowering marginalized populations to take their rightful place in public spaces as equal citizens and actors in harmonious social coexistence, while enriching it with their personalities. Social circus therefore acts as a powerful lever for social transformation.