Our story
The first social circus organization in Canada
Since 1995, our team has been offering social circus workshops to youth facing challenges.
Cirque Hors Piste was founded by Cirque du Soleil and Jeunesse du Monde, which created the Cirque du Monde program in 1995. In 2011, Cirque Hors Piste decided to stand on its own as an independent nonprofit organization. Since then, a wide range of activities have been developed to meet the needs of young people and communities.
The growth in recent years has allowed Cirque Hors Piste to expand its social circus expertise and establish itself as a pillar of the social circus movement in Canada.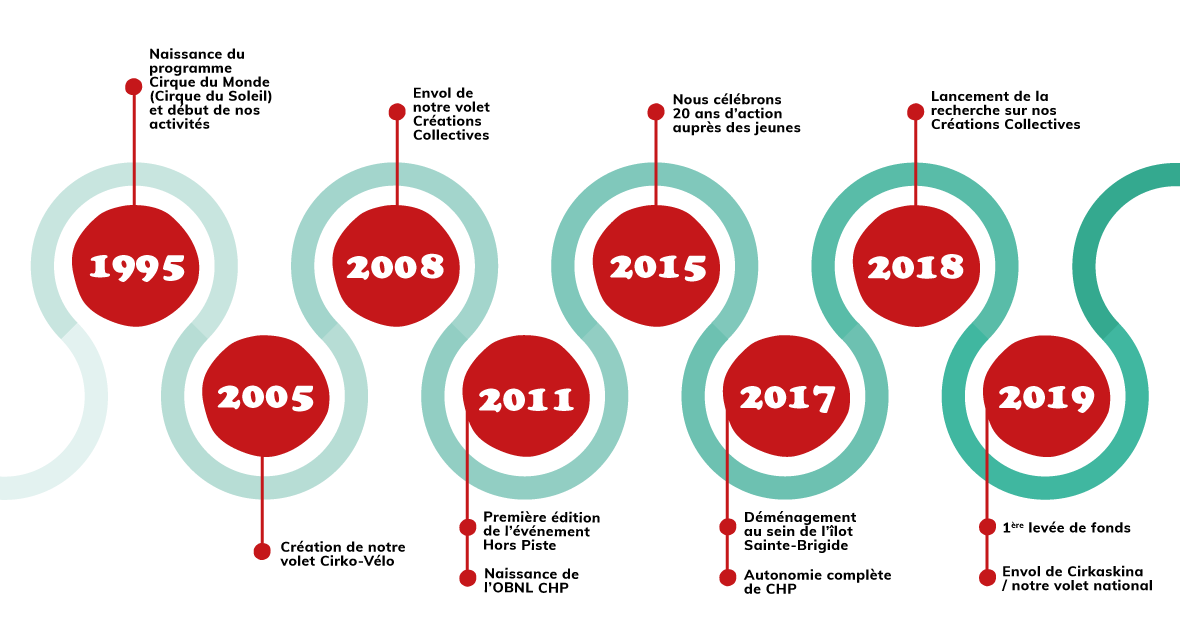 Celebrating 20 years of working with youth
Building a circus hub in Hochelaga-Maisonneuve to meet the needs of youth and the community.
For over 20 years, our relevance as a key player in homelessness reduction in the Centre-Sud neighbourhood has been well established. From 2017 to 2022, the former Sainte-Brigide-de-Kildare church provided us with a suitable space for our practice and the young people we serve.
Starting in 2023, a new chapter in our story will unfold through a partnership with the Mercier-Hochelaga-Maisonneuve borough. By managing the Emmanuel-Arthur-Doucet building, our dream to develop a circus hub will finally come true!
This space will allow us to fulfill our mission for youth while providing opportunities for interaction between young people, professional circus artists, and the community.
Rest assured, we will stay active in Centre-Sud thanks to our community partners in the neighbourhood.